The Last Anniversary - Liane Moriarty (2005)

This is the second novel by Australian author Liane Moriarty, published in 2005.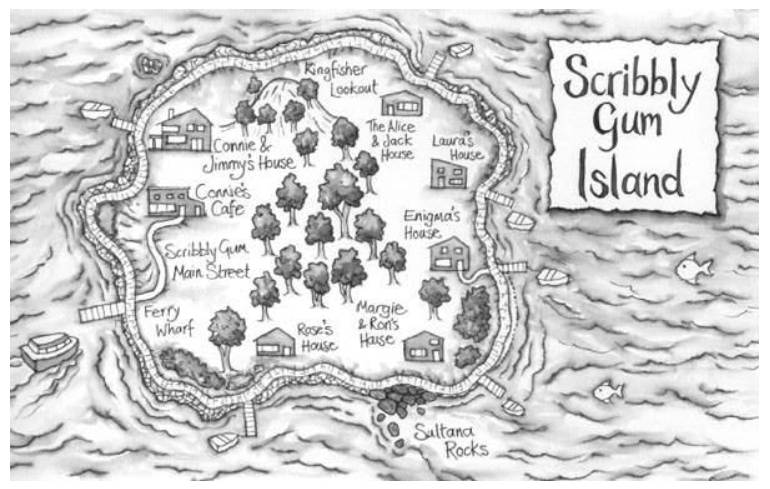 The book is set in Australia, some 50 kilometers North of Sidney, on a (fictional) island called Scribbly Gum Island (after the Scribbly Gum trees that grow there) in the (fictional?) Glass Bay, mound of the (real) Hawkesbury River.

The book is focused on two periods: a period starting in 1932 and one in the present (around 2000 or so).

In 1932, Jack and Alice Munro disappear from their house on Scribbly Gum Island, leaving behind a baby girl. Connie (Constance) Doughty (19 years old) and her younger sister Rose were invited to their neighbours, Jack and Alice, for tea, and find the baby in her crib. They take the baby home to take care of her. The Munros never return home. Connie and Rose name the baby Enigma. A young journalist, Jimmy Thrum, comes to the island to interview Connie.

Connie and Rose live with their father, who suffers from war traumas. ("Dad doesn't really get off the island much. My father isn't well. He was gassed twice in France.") Their mother is recently deceased. The family has owned the island since 1882; their grandfather Harry Doughty, who was a poor blacksmith, has won the island from the former owner, Sir Charles McKay in a bet over a cricket match.

In the present, only Connie, Rose, Enigma and their descendants still live in the six houses on the island, which is by now a tourist attraction: people can visit the Munro house, which is empty and still intact. The family members give tours of the house. Connie dies, and in her will, she has stated Sophie is to inherit her house on the island.

Family Trees
The numbers indicate the generation. For example Jake is the fifth generation: he's Grace's son, Laura's grandson, Enigma's great-grandson and Jack and Alice's great-great-grandson.
1: Harry Doughty
2: Dad x Mum
3: Daughter Connie x Jimmy Thrum
3: Daughter Rose

1: Jack Munro x Alice
2: Enigma x Nathaniel McNabb
3: Enigma's daughter Margie x Ron Gordon
3: Enigma's daughter Laura divorced from Simon
4: Margies son Thomas x Deborah
4: Margies daughter Veronika
5: Thomas' daughter Lily
4: Laura's daughter Grace x Callum
5: Grace's son Jake

1: Hans Honeywell x Gretel

2: Sophie

Characters
A few more details about the characters in the book:
Laura has gone travelling for a year.
Laura's daughter Grace (a graphic designer and children's books writer) and her husband Callum (a high-school music teacher) are building a house on the main land, and live in Laura's house on the island in the meantime. Grace has just given birth to baby Jake.
Margie is constantly on a (Weight Watchers) diet.
Margie's daughter Veronika doesn't have a job. She wants to solve the Munro Baby Mystery and write a book about it.
Margie's son Thomas and Sophie (a 39 year old Human Resources Director) had a relationship that lasted a year. They met each other because Sophie's friend Veronika introduced her to her brother.